Build Your
Retirement Plan Now

in Minutes
Finally an easy way to answer your questions
Did you know that most people spend more time planning their vacations each year than planning retirement? Numbers, nerds and finance talk might have something to do with that, until now.
Your Pocket Plan includes  professionally made, custom reports based on your information. Quickly measure your current spending, net worth and projected cash flow until age 86. Build a stronger score with a Monte Carlo analysis when you connect your investment accounts.
Easily share your reports with advisors, accountants or others. Connect with a team of professionally Certified Financial Planners if you have questions you'd like to discuss or want more help. 
It's time to Retire Smarter
See your Retirement Score in minutes by simply connecting your financial accounts. This score estimates your odds of not running out of money before age 86. The higher the number the better your odds. Our formula looks at your income and net worth to build a cash flow retirement analysis. We back test historic market returns with a 1,000 trial Monte Carlo through age 86. You can test changes and see the impact on your Retirement Score.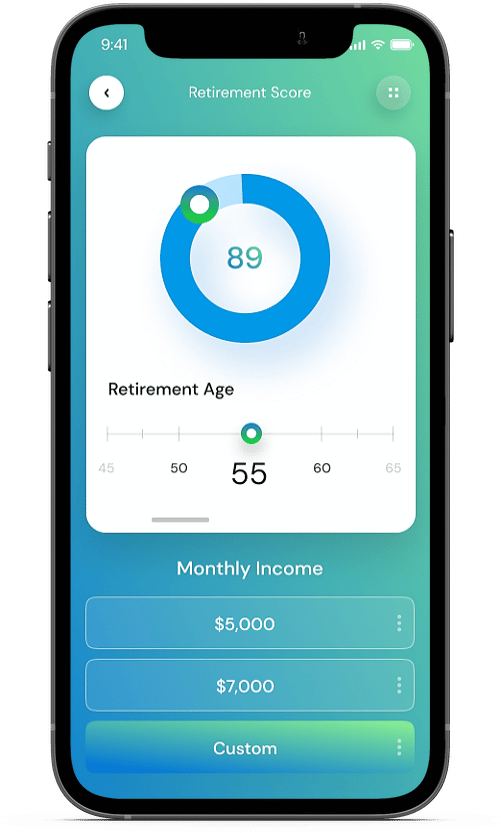 Connect your financial accounts for an easy way to manage your money. Keep sight on the big picture by focusing on one number, your Retirement Score. Improve your score by testing Scenarios and connect with a licensed professional for  help.
Pocket Plan gives you a first draft financial plan in minutes. Use it to plan your future and connect with licensed professionals.
Choose to share your financial info through our advisor network. Connect with an advisor, to share your financial info. If you decide that the advisor isn't right for you then you can disconnect from them to revoke access to your information.
Improve your network and your Net Worth with Pocket Plan